Education in Digital Marketing
Why Digital Marketing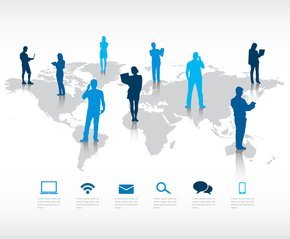 Marketing has evolved and become a complex and diverse field, as technology and social platforms enable different means of communicating, advertising and marketing products, services and brands. Social media and digital platforms have entirely transformed the way that we, as consumers, consume, receive and get our information, and make decisions about what we buy and how we buy it.
Digital marketing is so important for brands, companies and organisations of all shapes and sizes. It can be seriously detrimental, and even fatal, for a company to not develop and implement a digital marketing strategy. This means developing a strategy, goals and plans to leverage social media in a way which aligns with other strategic goals and values.
To be successful in developing and implementing these strategies, it can be helpful to get educated in digital marketing. Having an understanding of digital marketing theories and concepts and about the mechanics of different platforms, as well as having the welcome opportunity to learn and practice hands-on, will help set you up for success in a corporate setting. There are many different educational options, depending on your needs, and what your career and professional goals are.
Education Options
If you have an interest in digital marketing and would like to pursue or obtain an education in digital marketing, several different options are available, depending on your goals and interests.
Certificate in digital marketing; one popular choice for those pursuing a career in digital marketing is a certificate. This is typically the fastest way to learn about and receive a thorough education, in digital marketing. You can take many different Online digital marketing courses, or you can pursue these certificates on a campus of local universities, colleges or training institutions.
Undergraduate degrees in digital marketing; traditionally, there were bachelors degrees in business administration, or in business with a focus in marketing, but as the field has evolved, and marketing has become a more broad sector, there are now undergraduate degrees with a concentration or specialisation in digital marketing. You can receive a bachelor of business, commerce or business administration, (depending on where you are getting your education), in digital marketing. These exist all over the world and focus on teaching students the basics of digital marketing, which includes a broad spectrum of topics from theories of marketing to social media strategies.
Masters in digital marketing; if you have started your career, finished your undergraduate education or are merely looking for further education in the field of social media and/or digital marketing, there are many different masters programmes which you can pursue, and that may be of interest to you. From an MSc in digital marketing to a Masters of Business Administration in digital marketing, each programme is unique and designed differently depending on your goals and focus.